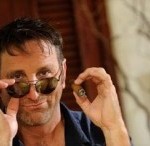 It doesn't take that long to play 'THAT' bad!
Written on October 24, 2014
I had the pleasure of fulfilling a promise I made the other day… Early this year I agreed to donate a day of my time to be auctioned off at a charity golf tournament. These types of days always make me feel good and remind me of what golf is all about. My new friend Steve, had generously donated $ 1,000 and won "The Ultimate Power Golf Experience" at The Sanctuary on Sanibel Island… Now keep in mind this is not just a let's-play-golf kinda round… For me, it's a driver every hole, man up, shock and awe big time show! My goal is to blow your mind with earth shattering drives and low scores. All the while sharing stories, beverages, cigars, and instruction on how to improve your distance and overall game. I want you to leave feeling like your money was well spent and you are excited about your next game. Well… that's my goal.
While waiting for my arrival, the philanthropic golfing trio spent their time preparing to for the round in the Grill Room and were just getting their swing oil levels topped off and primed for the long drives ahead. I knew right away this would be my kinda day! On the first tee I was informed by Steve, the host, that John my cart driver for the day, who was 6′ 4″ 250lbs, was the big hitter of their group and he was my partner for the first 3 holes in which were playing team total score. John was nice enough to explain he doesn't play very much golf but could hit it 280 off the tee dead right and it was going to be a long day. He did not exaggerate! As I lit my Monte Cristo Blonde and I gave my first tip… Aim way Left! We lost all three holes and John hadn't beaten their total once.
With the failure of the first tip and my cigar burning unusually fast, I made some major adjustments to Big John's address position and talked him to hitting a 4 iron in play instead of driver long and wrong. A few holes later he had gained so much confidence about his new found golf swing that he played a hole solo against our two low ball total on one par 3. Much to Steve's surprise John won the hole and a golfer was born. In fact, Big John was taking half the number of strokes per hole as he did the first three! The bet had to change now. We played several other crazy games, drank several more cold ones (water for me), and enjoyed the perfect weather along with the amazing scenery of this true island treasure. We played by Charlie Rhymers rules to speed up play and dropped balls at the nearest point in play and had a blast!
There several swing tips given out that day, but by far the best lesson learned was less strokes take less time! Thanks again to my new friends Steve, John, and Chad for stepping up for a charity!